Vltava 2002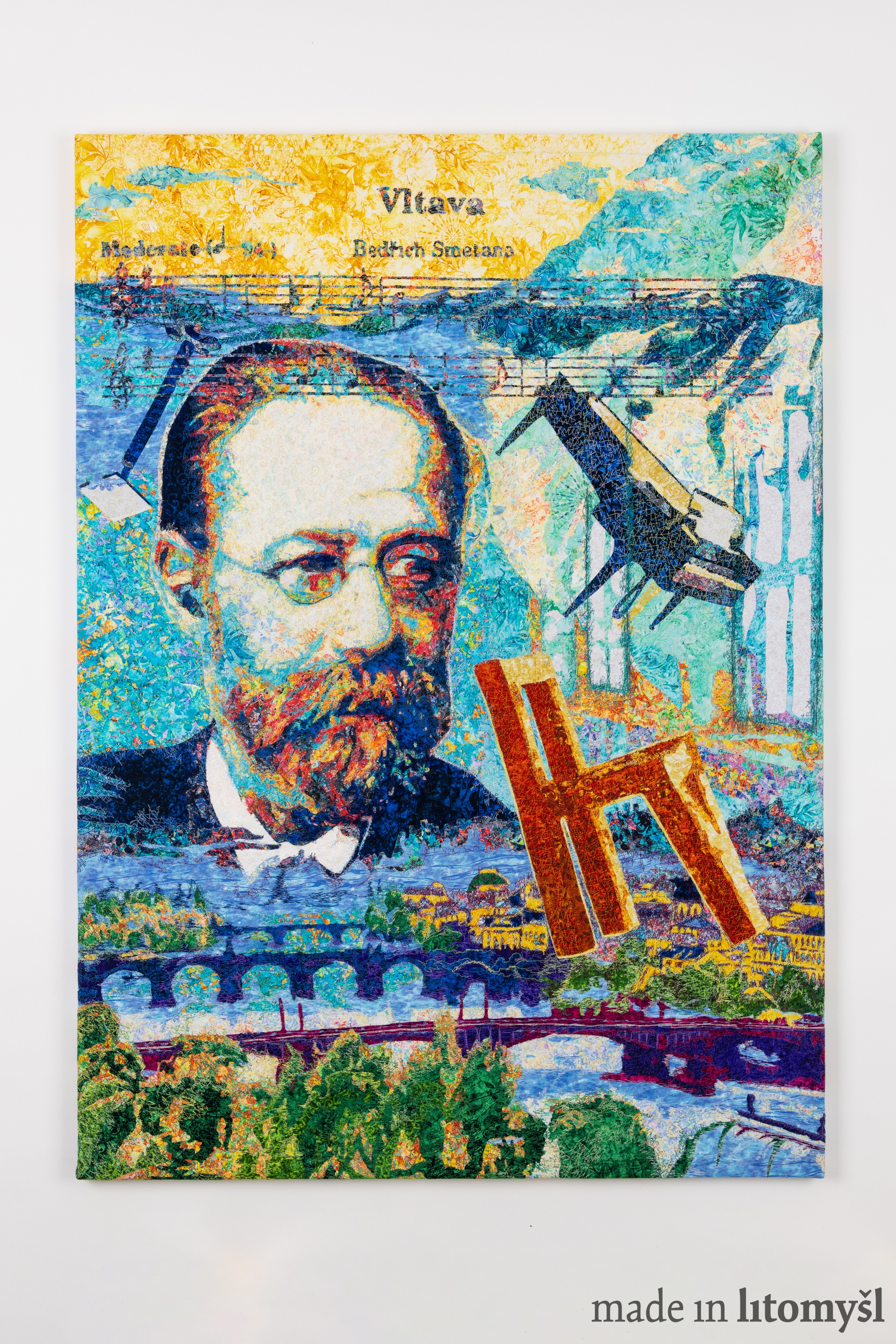 Pro přiblížení použijte na počítači Shift+kolečko myši, na mobilu "pinch" gesto.
Name: Vltava 2002
Year: 2022
Techniques: Various arts

The Vltava, which showed its strength and flowed through the windows into human dwellings. The Vltava River, which flooded
a wide river basin and took everything that stood in its way along the way, including the chair of the artist Magdalena Jetelová,
which was exhibited in front of the Meda Mládková Museum in Kampa, Prague. The chair swam up to Mělník, where it caught
on a tree. After that, the well-known giant-sized chair became the dominant feature of the reconstructed Monastery Gardens in
Litomyšl for two seasons.
As soon as you say Vltava to a native of Litomyšl, the second symphonic poem from the cycle My Homeland by composer
Bedřich Smetana will start playing in his ears. I am a native of Litomyšl.
• Love beyond the grave • ANTONÍN DVOŘÁK IN NEW YORK • MARILYN MONROE: Just Being Someone Else… • ANDY WARHOL: "I am unusually passive. I take things as they are. I'm just watching, observing the world" • I'M STILL HERE, I'M STILL ALIVE • EDITH PIAF SPARROW: "I do not regret anything" • WE PLAY THE CLASSICS: BEDŘICH SMETANA • SWEET MOZART • MICKEY MOUSE'S 95TH BIRTHDAY (1928) • SWEET AND SHARP, SIMPLY THE BEAST • A CONVERSATION WITH A CAT • FRIDA KAHLO: "I hope the ending is happy and I hope I never go back" • NIKOLA TESLA – MASTER OF LIGHTNING • UPSIDE DOWN • Africa • Every day • Little bird • Tribute to Czechoslovak glass • I'm dancing • IMMORTELLE • Marie de Lara in the middle of her sorrow • It makes sense • Good morning The Czechoslovak Republic • Medallion of a czech writer • Elixír of life • Magdalena Dobromila Rettigová • Eliška Junková • Dagmar Pecková • Menhir • Love knows • St. Matthew's fair • Free • Joyful expectation • The border between landscape and soul • Spa bench • Wonky • Secret • Quilt The Love • Watercolor • Beethoven Frieze • Andy Warhol v patchworku • Sunplugged & Andy Warhol & Renata Edlmanová • Diagnosis: Patchwork • Lone star • Flasks • Kaleidoscope, cubes • Silent night • Tree of life, by Gustav Klimt • Cancer constellation • Surprise • Lone star • Find cats • Kaleidoscope, cubes II • Fishes by M. C. Escher • The Turtle • Cube in cube • By Kafe Fasset • ... when I swim • Flying cubes • Lizards by M.C. Escher • Venetian paving • Rainbow ball II • Rainbow Ball I